Panic Button APP -

Quickly Alert Your Emergency Response Team
Effortlessly trigger an emergency response with our user-friendly SOS emergency panic button APP and quickly alert your emergency response team
Emergency Alert at Your Fingertips with Panic Button APP
The Panic Button APP from Crises Control is an essential tool for keeping your employees safe in case of any emergency. Whether your employees are on site or off-site, Panic Button is always available, giving them the ability to alert the emergency response team at the touch of a button.
With the Panic Button APP, employees can instantly alert the emergency response team if they are in danger or need immediate assistance. This is especially important during a crisis situation such as a terror attack, natural disaster, or any other situation where immediate action is required.
It is easy to use and can be activated with a single touch. Once activated, the emergency response team is automatically notified, and they can quickly deploy to the location of the user who activated the panic button.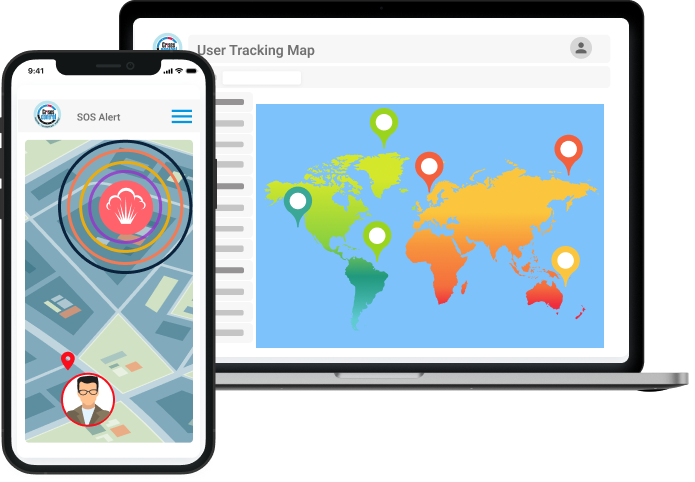 Features of the Panic Button APP
Some of the key features of the Panic Button APP include GPS tracking, real-time updates, and automatic notifications to the emergency response team. In addition, the Panic Button APP is easy to use, and it can be customized to meet the specific needs of your organization.
The Panic Button APP is also secure and reliable, with SSL encryption for all communications and data. This ensures that all alerts and messages are kept confidential and secure at all times.
A safety feature providing support for occasions when an employee's personal safety could be at risk.
Silent push notifications
Another safety feature where pushing the button is entirely silent for incidents where an alert noise could exacerbate the incident.
Activating the SOS panic button
Benefits of the SOS panic button
Ensure the safety of employees wherever they are
Launching the SOS panic button will initiate an emergency rescue mission for the user who presses it. Wherever they are, your defined rapid response process will kick into play.
Use the PING message function to alert employees of a critical incident via SMS, or push messaging, and require acknowledgement of receipt. The user who presses the button can also define whether they can be contacted by SMS or call by the response team.
Automate the response team's course of action according to the relevant incident management plan, and assist distressed employees quickly and effectively.
The SOS panic button allows employees to call for assistance with one touch. GPS tracking leads response teams to them.